Kaden's Wish
Kaden Stark is a 8-year-old Make-A-Wish recipient who decided that he, along with his family, wanted to start a fundraiser that could help pay for other kids to receive wishes. Kaden's Wish has been created to raise money and awareness for the Make-A-Wish foundation and the United Mitochondrial Disease Foundation. On November 2nd, 2013 we will hold the Second Annual Kaden's Wish Fundraiser at Champps Americana in Brookfield, WI. There will be a silent auction and a watch party for the Wisconsin vs. Iowa football game. Come join us for some Badger fun and support the Make-A-Wish Foundation. Last year's event raised more than $21,000.00 and granted 4 wishes to children with life-threatening illnesses.
Kaden's Story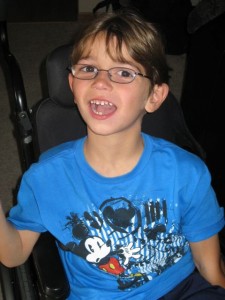 Kaden has a rare form of mitochondrial disease called Leigh syndrome. Leigh syndrome is a fatal progressive neurodegenerative disorder and there is currently no cure. This genetic disorder causes his brain to not get enough energy at times. That lack of energy production does damage to Kaden's brain, which at this time causes Kaden to have motor issues.
The biggest issue caused by Kaden's mitochondrial disease is Dystonia. Dystonia is an involuntary contracting of the muscles. A doctor once described it to us as being akin to getting a cramp in a muscle. Only Kaden could have a dozen muscles cramping at once and those cramps could last for days or even weeks. This sounds painful but you wouldn't know it from Kaden. It's rare that he isn't showing off that beautiful smile or laughing at his siblings. That's Kaden and everybody knows his smile.
We had heard of Make-A-Wish a couple years ago from several families at New Berlin Therapies, where Kaden goes for physical, occupational and speech therapies. The stories we heard were all incredible and it started us thinking that we really need to get away with the kids. We started the paperwork with Make-A-Wish and before we knew it, there were wish granters at our house and bags of toys for all four of our kids. The process was very easy and everyone associated with Make-A-Wish was phenomenal. They took care of everything, and I mean everything.
Kaden's wish was to go to Disney World. I think he chose this destination as much for his brother and sister as he did for himself. Kaden became a hero to his brother and sister. Anyone who knows Kaden knows that he doesn't mind being the center of attention. On our trip to Disney World, Kaden was treated like a rock star and he was in heaven. The trip was unbelievable. With this Make-A-Wish trip we went to a resort called Give Kids The World, which is exclusively for Make-A-Wish kids. Everything there is fully accessible and they handle any and all needs that a family with a disabled child could have.
We were given 3-day passes to Disney World, 2-day passes to Universal, and a day pass to Sea World. We started our trip with petting dolphins at Sea World. Then we celebrated Kaden's little brother's birthday the next day at Magic Kingdom. Went on a safari ride at the Animal Kingdom. Saw shows and rode rides at Hollywood Studios. Toured the world at Epcot and met our favorite superheros at Universal. The kids had the time of their lives and talk about that trip all the time. It was truly magical.
The biggest thing that my wife and I took from this trip was the fact that we don't need to hold back. I know other families with disabled children know what I'm talking about. Before you go anywhere, you have to think; is there room for the chair, can I get into a building with the chair, will we have to stay out in the heat or cold for any length of time, can we leave early if Kaden isn't feeling well. These are things that most people don't generally have to think about. When we go somewhere we always have to have a plan.
The accessibility of Disney, Universal and Sea World was incredible and the fact that we can go back and feel comfortable that there are facilities and activities that not only include Kaden but that he loved, will ensure that we go back, and often. This trip made us realize that we need to do more, take more time, find more activities that we can do as a family. Time is too short to worry about every little detail.
Our experience, as a family, with Make-A-Wish has been nothing short of amazing. It has inspired us, and especially Kaden, to do everything in our power to raise funds for others with life-threatening diseases to the same kind of experience.